Welcome to the second newsletter from Winnipeg Police Cause Harm (WPCH). We aim to send out a newsletter on an ongoing basis. Each issue will include a news round-up about policing, upcoming events/opportunities, stories from other struggles in Winnipeg, and suggestions for things to read/watch. Please feel free to get in touch with us if you have any ideas or requests for things to include in future issues at wpgpolicecauseharm@gmail.com.
"That's why we're abolitionists, because we can't tolerate this as survivors ourselves, and as people who care for survivors and young people who are experiencing harm." - Andrea J. Ritchie
In the news
City proposes $8.3 million in increased funding to police, while underfunding other city services
Winnipeg's proposed 2023 budget was officially tabled on Feb. 8, and will be voted on by council on March 22. As always, the largest departmental budget is for the Winnipeg Police, which is proposed to be increased to $327 million (a $7 million increase from last year's budget, although the WPS overspent that year by $4 million).
The most important number in budget reporting is "mill rate support," or the amount the city is going to directly spend. For police, this support is going to increase by $8.3 million, reaching $281 million in 2023. By comparison, all libraries in Winnipeg will only receive $30.1 million from the city, an increase of only $165,000 from 2022. This means libraries will be receiving 2% of the funding increase that police will receive. Among other things, this means that "full time equivalents" at libraries will actually drop by 11 in 2023, at a time when staffing increases are desperately needed.
The city's funding of police will be greater than the funding of transit, recreation, parks and urban forestry, libraries, and arts, entertainment, and culture combined.
The city is also going to spend another $5 million on establishing a transit security force. Meanwhile, the WPS are pushing for more 911 operators (funded by a cellphone surcharge) and police board chair Markus Chambers is again pledging to eventually introduce expensive and ineffective body cameras.
Family of William Ahmo sues province and Headingley guards for 2021 killing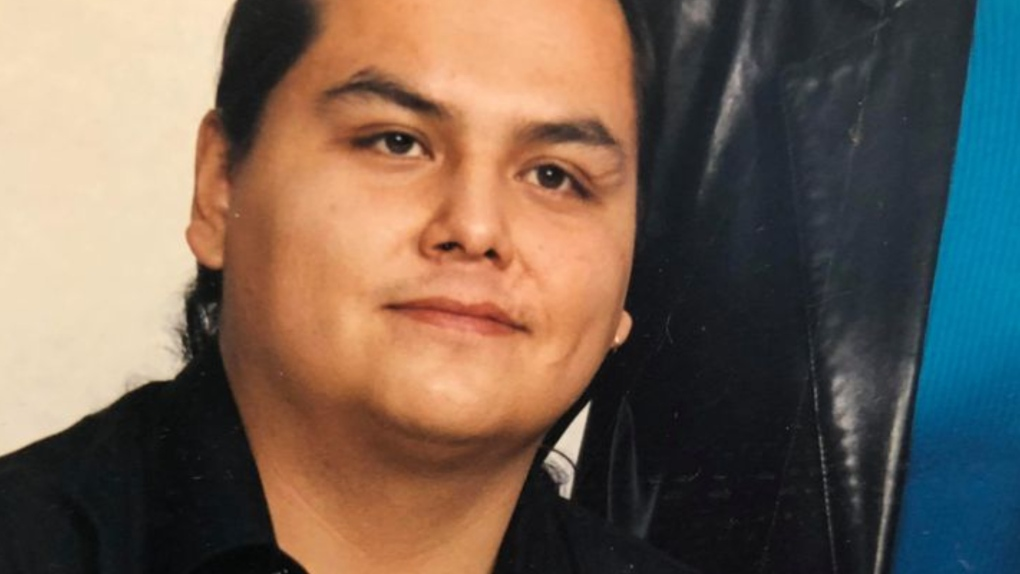 William Ahmo was a 45-year-old father and member of Sagkeeng First Nation who died in hospital in February 2021 following a vicious beating by guards at Headingley jail. As reported by the Free Press, William had been protesting the constant racist treatment of prisoners by guards — including a racist joke directed at him and his cellmate — when he was shot with projectiles, subjected to pepper spray and flash-bang grenades, and "swarmed and pinned" by a riot team that beat him with batons until he was unconscious. William died a week later, having never regained consciousness.
His family is "seeking unspecified damages for Ahmo's family for medical, burial and funeral costs, as well as loss of income, damages for the loss of care and companionship, compensation to be determined at trial for the province's alleged breach of its duty of care, and punitive damages reflecting 'callous, heavy-handed and racist treatment.'" There is a GoFundMe campaign to help cover legal expenses here.
Armed WPS drill triggers school lockdown
For the second time in recent years, the Winnipeg Police conducted an armed drill outside of a school that resulted in mass panic by students and staff. On Feb. 15, nine officers ran an "armed training exercise" outside École Taché, an elementary school in St. Boniface, causing a school-wide lockdown as police hadn't notified the school about the drill ahead of time. Police refused to explain what the drill was for but said about the lack of communication with the school that "that is 100 per cent something that was missed on our part" (as Police-Free Schools Winnipeg tweeted: "An apology from WPS with no repercussions or explanation isn't 'owning up'"). This incident follows a Winnipeg Police dog biting a five-year-old boy at an elementary school in South St. Vital in mid-December, along with other similar incidents such as in mid-2020 when "a Winnipeg woman who suffers from post-traumatic stress is still shaken after witnessing what she thought was a shooting, but turned out to be a police training exercise." Winnipeg Police has faced no public repercussions for these continued harms, and continue to spread fear and surveillance in schools as detailed in this recent thread.
Other times that the police caused harm
CBC investigation finds WPS officers rarely disciplined
An investigation by CBC's Kristin Annable found that between 2014 and 2020, Winnipeg Police officers only faced 57 internal reprimands, mostly in the form of lost pay, verbal warnings, or written reprimands. Only one officer in that span was fired, another was demoted for two years, and two more were made ineligible for promotion.
More harassment by cops in Superstore
In mid-January, WPCH tweeted a thread about an incident reported to us about harassment from a "special duty" officer at a Superstore. After expressing dissent about the presence of cops in grocery stores, the officer followed the shopper to their car and took down their license plate number, and then proceeded to mock them as they filed a complaint with the store manager. This is far from the first time this kind of thing has happened, as another person reached out to us with a similar story from 2020.
WPS officers keep crashing cars into things
Continuing a lengthy trend, WPS officers have repeatedly crashed their cruisers, although media reports obfuscate their role. Late on Jan. 27, cops "were involved in a crash with a car travelling perpendicular to them. After the impact, the police car struck a nearby building."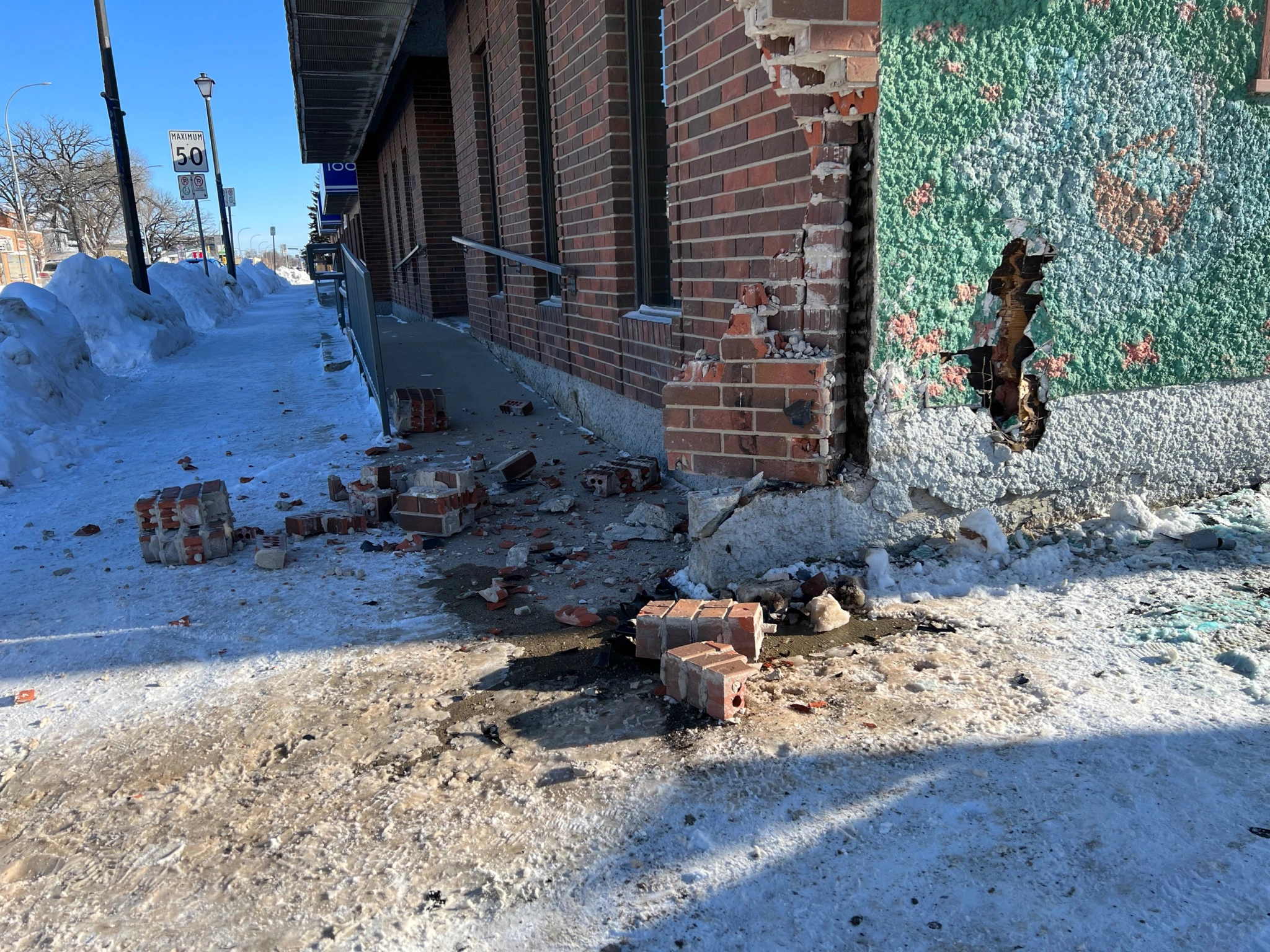 A few days later, on Jan. 31, WPS officers crashed into another car on a highway about 100 km east of the city, sending the driver of the other car to hospital with non-life-threatening injuries. Recently, an officer who was involved in a 2021 crash that sent a woman to hospital with a broken back, pelvis, and shoulder — the result of the cop driving 110 km/h in a 60 km/h because he was late for work — was fined a tiny $780 for speeding in a plea bargain. In the ruling, the judge blamed the victim for making an unsafe turn.
Three WPS district stations remain closed to public
Three of the WPS' four district stations — which cost "tens of millions of dollars of public money to build" — have been closed to the public since the start of the pandemic, meaning that anyone who wants to file a police report has to go to the downtown headquarters. Transcona's councillor Russ Wyatt is pushing for them to be reopened, which would likely require even more police funding. But given the police are refusing to use them for their purpose even with the largest budget in their history, these district stations should instead be seized by the city and converted into housing, safe consumption sites, food programs, and more.
RCMP officer tries to illegally shoot caribou, hits car instead
In March 2022, an on-duty Manitoba RCMP officer attempted to illegally shoot a caribou using a patrol-issued carbine rifle, but accidentally hit his own police vehicle instead. He later resigned and was discharged from the RCMP and now faces charges for the incident. While rather trivial compared to other incidents, this demonstrates the constant disregard that cops have for the laws they're tasked with enforcing.
Within WPCH
Community Safety Beyond Police workshop
On Friday, Feb. 3, WPCH hosted a free workshop titled "Community Safety Beyond Police" at Central Community Centre on Isabel Street. It included a presentation by WPCH members about police abolition and information by Mama Bear Clan, the Sex Workers of Winnipeg Action Coalition, and Bar None about the amazing work they do to keep our communities safe. Despite being a cold winter night, it was a packed event: we even ran out of chairs! Another several dozen people watched the livestream online. Given that the COVID-19 pandemic is ongoing, we distributed free N95 masks and ran two HEPA filters and a homemade Corsi-Rosenthal Box (you can see the set-up here). The full text of WPCH's presentation is available here, and you can watch/listen to a fully captioned recording of the event here. We plan to deliver this presentation again in the future: please let us know if you are interested in hosting us in your community by emailing wpgpolicecauseharm@gmail.com!
Blog posts about library and transit security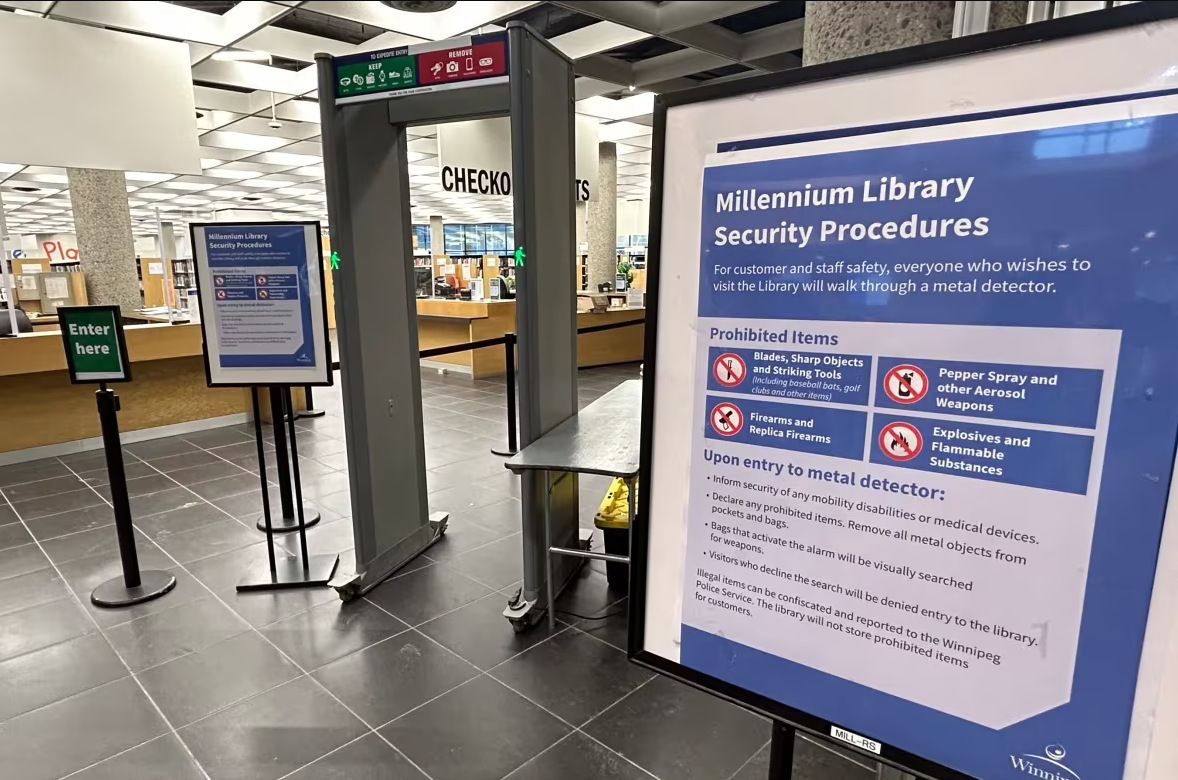 WPCH recently published two blog pieces about the ever-increasing security presence in our city, particularly in public spaces. The first, by Noah Kaldeway, reflected on the return of intensive security processes — including police officers —  to the Millennium Library in the wake of the killing of Tyree Cayer in December 2022. Noah highlighted the importance of the currently closed Community Connections space as a crucial aspect of improving safety for all in the city's downtown.
The second, by James Wilt, offered a set of arguments against the city's plan to establish a transit security force and called for alternative policies like free and improved transit along with funding life-sustaining services.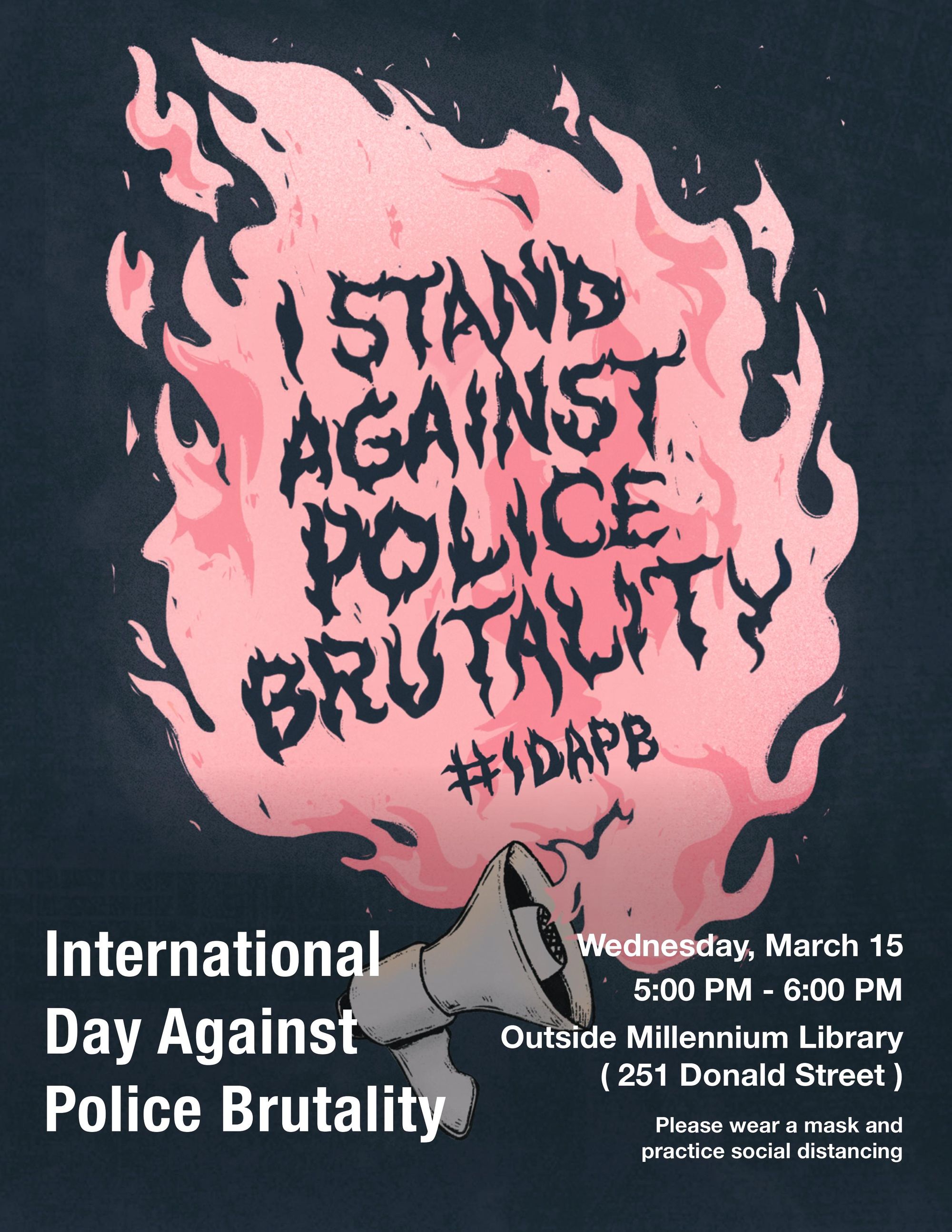 Upcoming events + opportunities
Wednesday, March 1 from 7 pm to 9 pm
Solidarity Winnipeg Reading Group will be hosting a book reading: "we are going to be reading the classic Angela Y. Davis book, 'Women, Race, & Class'. If you want to join a discussion about it, we'll be meeting March 1, 2023 at 7pm (CST) over zoom. Email us at info@solidaritywinnipeg.ca to participate!"
Friday, March 3 at 12 pm
Join Fridays for Future Global Day of Action; meet in front of the U of W, marching to the West side of the Manitoba Legislature. "We want a just transition to limit global warming to 1.5C and to promote social equity!... Come hear the speakers, take part in singing, and learn about opportunities for further action!" The movement for the Earth must be a movement against the police. Fridays for Future Manitoba.
Friday, March 10 at 9:30 am
As discussed in the first news item of this newsletter, the city has proposed a budget for 2023 that will increase the city's funding of police by $8.3 million. The next police board meeting, where you can sign up to speak against this budget, is on Friday, March 10, at 9:30 am. You can register to sign up to speak here, and can present in person at City Hall or over Zoom. You'll have to register by Thursday, March 9 at 12 pm. The registration form is not user-friendly and you'll have to choose "other" from the drop-down menu of committees and manually write "Winnipeg Police Board," along with an agenda item to speak to.
Each person is given 10 minutes to speak, after which the board can ask follow-up questions. Get in touch with us if you're interested in speaking or if you have any questions about the process at wpgpolicecauseharm@gmail.com!
Wednesday, March 15 at 5:00 pm
We are helping organize a rally for International Day Against Police Brutality. The event will take place outside Millennium Library starting at 5 pm on Wednesday, March 15. Please help spread the word about the event and come out if you can.
Thursday, March 23 at 5:30 pm
Join Community Solidarity Manitoba for The Rising Cost of Living: A Community Forum. The event takes place at Knox Church (400 Edmonton St.), which is an accessible venue with childcare and light refreshments available. Face masks are recommended.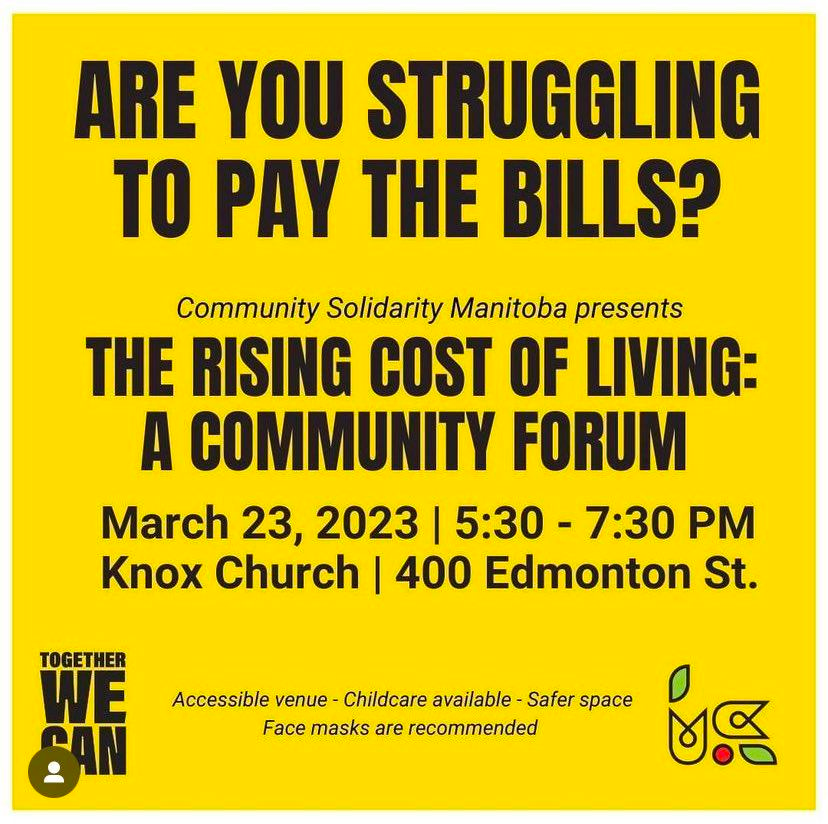 Police-Free Schools Winnipeg callout
PFSW is "calling all parents and guardians who are opposed to policing in schools and who have children/youth attending school in all six divisions to contact us to develop a collective plan." As detailed in this thread, Winnipeg School Division and Louis Riel School Division still don't have restrictions on police presence in schools, despite formally ending their school resource officer (SRO) programs. If you want more info, get in touch at policefreeschoolswpg@gmail.com.
Winnipeg stories
In late January, Sunshine House successfully completed its fundraiser to buy a $65,000 mobile mass spectrometer for its mobile overdose prevention site. As explained by Davey Cole, the site's coordinator, "that drug machine is really going to help with knowing how to navigate the toxic drug supply right now." A huge congrats to Sunshine House for this fundraiser and a big thanks to them for all that they do.
On Thursday, Feb. 2, Millennium for All hosted an online community forum about imagining library safety beyond policing. It was well-attended and allowed space for people to discuss alternatives to the deeply troubling status-quo. If you are interested in checking out some arguments against the return of intensive security screenings to the library, check out this excellent thread or this audio interview with a former librarian.
On Thursday, Feb. 16, a new coalition group called Community Solidarity Manitoba officially launched at Broadway Disciplines United Church as an organized progressive response against the ongoing far-right resurgence happening across Canada. Representatives from organizations including Migrante Manitoba and CUPE Manitoba spoke at the event. WPCH was proud to sign on to the statement against the "World Unity Convoy," which can be found in full here.
Abolition spotlight
Walls Down Collective is a newly formed group based in Calgary, Alberta, that provides direct, no-barrier, frontline support for people without involving police. As described on Twitter, the collective is "dedicated to removing barriers to basic needs, resources and care. We provide food, clothing, Harm Reduction, peer support, weekly community street walks and an alternative response to police intervention." Check out their work of distributing food and winter essentials and crisis response, and consider donating to help their amazing work here.
Activists fighting for defunding and abolition of police courageously occupied city halls in both Hamilton and Toronto. In Toronto, council had to break at least three times to clear the room, with protesters chanting things like "house the homeless, feed the poor, kick John Tory out the door!"
Mutual aid + resources
If you're able to, please consider donating to the Atlanta Solidarity Fund to help bail out and support the incredibly courageous activists involved in the Defend the Atlanta Forest struggle opposing the construction of "Cop City." As reported by the Fund in mid-February, it cost almost $400,000 USD to release a single protester due to unfounded "terrorism" charges. Check out this piece on "Cop City" for more information.
The National Overdose Response Service (NORS) is a convenient, and confidential 24/7 virtual safe consumption hotline, available anywhere in Canada: 1-888-688-6677
Winnipeg Bad Date List is a confidential, community-run website used for community safety within sex work and everyone involved in the sex trade. baddatelistwinnipeg.com or 1-844-333-2211 "Check for bad dates - keep our community safe - share information" Questions can be sent to baaddatelist.wpg@gmail.com
Experiencing someone in crisis? Call these numbers instead of the police:
Bear Clan: 204-306-8571
SABE Peace Walkers (Osborne Area): 431-293-7223
Crisis Response Centre (24/7): 204-940-1781
Further reading + watching
Want to contribute to this newsletter or get involved with WPCH? Get in touch at wpgpolicecauseharm@gmail.com.